STAND OUT LIKE A STARFISH
IN A SEA FULL OF BARNACLES
'Branding' is another word for 'making a logo'.

Kidding.
Branding is an intense, involved process of finding out what your organization ought to mean to people. Yes, logo design is involved, and it's kind of important, but the real work of branding happens when you're sat around a table (boardroom or barroom, doesn't matter) and figuring out what you want people to feel when they come into contact with your brand. Everything else flows from there:
NAMES

Did you know that Kraft Food went through 10,000 names for their imitation whipped cream product before settling on Cool Whip? Names are hard.

VOICE

Everything from whether you use the Oxford Comma to how you answer the phone to how you spell your name.

TAGLINE

You thought names were hard, wait until you try to encapsulate your company in a single phrase that doesn't sound weird.

LOGO DESIGN

Your logo is at the foundation of your brand and we actively encourage using Microsoft paint to create one. Trust the pros.
COLOUR

Red and black isn't blue and white isn't green and yellow... Every colour has a psychological impact on us land-dwelling homosapiens.

MISSION STATEMENT

'Make a bunch of money and buy a dune buggy' isn't going to inspire your employees and it's going to actively repel your customers.

BRAND GUIDELINES

Keeping everything consistent is how you keep people coming back for more.

INTEGRATION

Is your company letterhead on-brand? How about your business cards? What about your company's reception area?
Get branding right and you'll have an organization that people want to interact with. Do you know how rare that is these days? People are sick of corporate messaging getting in the way of the content that they enjoy- if you've ever hovered over the 'Skip Ad' button on a Youtube video then you'll know what we mean. The challenge in 2019 and beyond is to create a brand that doesn't make people cringe and actively occupies a portion of their headspace.
So how do you get there? Repetition, consistency and the undefinable x-factor that makes a brand stick. Let's take a look at the toolkit we'll use to get you there:
COPYWRITING, MISSION STATEMENT DEVELOPMENT & MORE
Every great brand starts with a great mission. It's a foundational element of your brand. Coming up with a mission statement that you want to share with the world is a process, and we know how to facilitate that process with small or large groups to come up with a mission that is both meaningful and memorable
Have you ever been in Burger King, ordered a Whopper and a Coke and been asked whether Pepsi is okay? Notice how when you think 'fizzy cola beverage' you instinctively go for Coca Cola, despite PepsiCo spending close to two billion dollars on advertising each year? That's what we in the business call 'top-of-mind awareness', and that comes from a strong brand identity. Octopus Creative can help you with everything from strategic logo design, taglines, brand guidelines, visual branding elements, and more.
Integrated marketing requires a consistent brand across digital and traditional media. Our crew can take our awesome design skills, and translate those for your print mediums – posters, brochures, billboards, business cards, menus, flyers, invitations and… well, there's just too many to list!
WE'LL BRAND YOUR COMPANY SO GOOD.
YOU DON'T EVEN KNOW.
"/>
Portage College
Celebrating its fiftieth year in 2018, Portage College is one of the largest colleges in Northeastern Alberta, with multiple campuses and thousands of students across undergraduate and post-grad degrees. It's also an important part of the community, holding events and adult education courses, and has a large and well-stocked museum of aboriginal artifacts.
"/>
Lakeland Co-op
Lakeland Co-op is part of the nationwide Co-op chain and a 4,300 member business in its own right, with a gas bar, hardware store, clothing store, home centre and fuel cardlock amongst its varied product offerings. Although they have a great range of products, public perception is that they are more expensive than other brands, and too few people know about the key differences between a regular company and a co-op.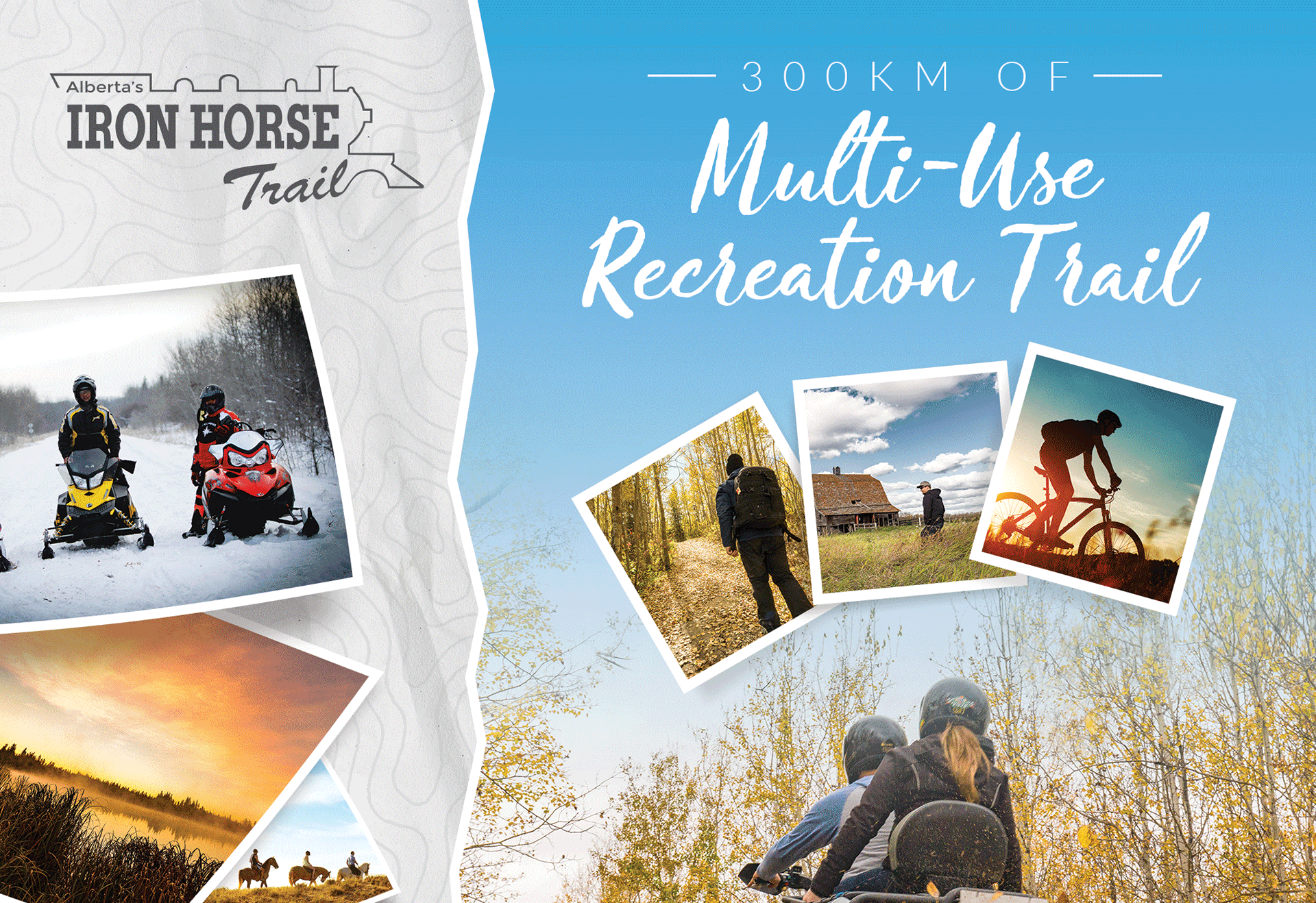 "/>
Alberta's Iron Horse Trail
The Iron Horse Trail is 300km of trail following the paths set down centuries ago by fur trappers and the first railways. It's one of the province's crown jewels, and when the Riverland Recreational Trail Society wanted to promote the trail and expand its audience, they came to us.
"/>
St. Paul & Eastalta Co-op / Federated Co-operatives Ltd.
Octopus Creative pulled off an integrated marketing campaign, spanning a trading area of more than 280km in just over a month. St. Paul and District Co-op and Eastalta Co-op officially formed Cornerstone Co-op in January of 2017, and as of January 2018 this campaign now provides the framework for a system-wide amalgamation campaign to be used by Federated Co-operatives Ltd. throughout the Co-op Retailing System.
"/>
Northpark Collision
Northpark is a family-run collision repair shop that has been fixing vehicles in St. Paul since 1985. They're an important part of their community, making charitable donations and doing everything they can to contribute to good causes. They're also a pro-grade repair shop with high-tech spraying facilities and hundreds of combined years of experience.
"/>
Kaft CPA
If you've got a small business in North Eastern Alberta, then KAFT CPA are your guys to call. A full-service, friendly business accountancy with a focus on helping small businesses by giving them solid advice. They specialize in tax preparation, bookkeeping and assurance- as well as being just plain lovely people.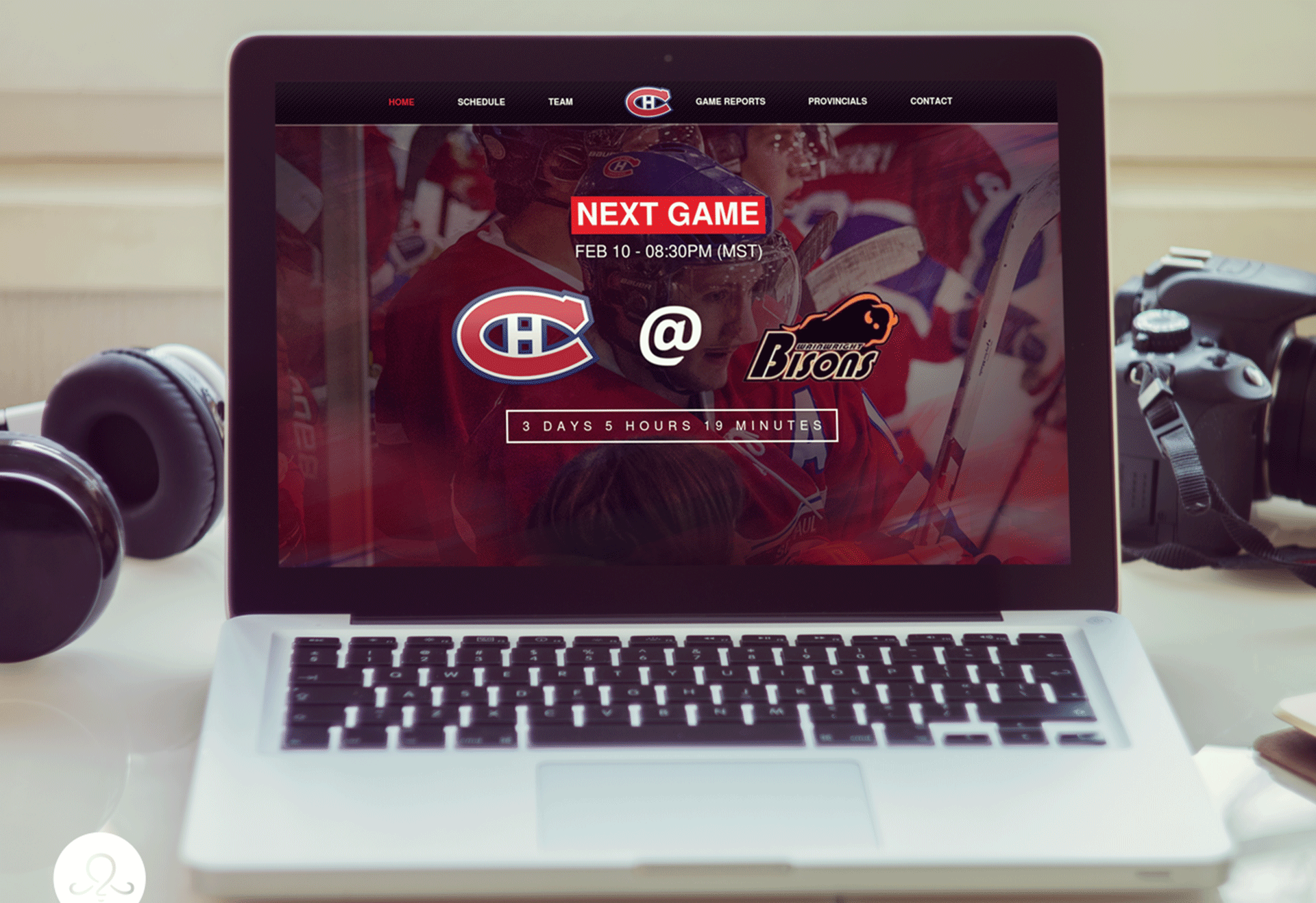 "/>
St. Paul Junior B Canadiens
Ahh, good 'ol hockey! This is a sport that we love (if our teams make the playoffs that is!) and we were thrilled when the St. Paul Canadiens approached us to support their hockey team. We developed them a cutting-edge website with stick-dropping photography, entirely pro-bono!
"/>
JD Collision
Our crew helped JD Collision rev up for their 40th year in style with a 40th-anniversary campaign, long-term marketing strategy, optimized branding, a new website and more! Since then, we've helped them dominate the web with social media, online advertising and SEO to make them the #1 shop in the Lakeland region.
"/>
Tru Real Estate Team
Rollie Cartier and Kerri Dechaine are one of the top real estate teams not only in St. Paul, not only in Alberta, but in all of Canada. They have a long-established business and a huge, always-evolving inventory of great properties, but more importantly they have a reputation for being friendly, nice folks who deal with their clients fairly.
"/>
Weaver Supplies
What does it take to shake up the industrial supplies business, which has been dominated by a few key companies for decades? Smart sourcing, cutting out the middle-man, and a professional web presence. Weaver Supplies is a start-up company that sells small, disposable products like safety glasses and grinding discs that companies in the construction or utilities businesses need to order often, and which can have a serious effect on their bottom-line.
Tell us about your company and we'll get in touch: